Baseball Travel Bags
The official bag for baseball™
Become the ace of your team with the official bag for baseball from Private Label. Our duffles and backpacks are perfect for storing all your baseball equipment.
Whether you're traveling to the field for baseball or softball practice, on your way to the big game or heading out to the stadium to support your favorite MLB team, Private Label has the reliable bag you need to level up your game.
Our baseball backpacks and duffle bags allow you to organize your gear to perfection. There's plenty of space for your hat, cleats, jerseys, batting gloves and balls. With removable dividers to help you customize your bag, you can keep all your gear neat and tidy, while discreet internal and external pockets mean there's plenty of added space to keep personal belongings like your wallet and phone safe. Pair it with your bat bag for the dream equipment bag duo.
All our baseball travel bags are fully breathable with adjustable padded straps, so you can carry all your baseball or softball equipment to the field without breaking a sweat. Developed with baseball players in mind, our bags are made to meet your unique needs - with style and practicality at the heart of their design.
Key Features
Easily fits a standard size batting helmet
Fits 4+ pairs of baseball shoes up to size 16
Adjustable shoulder strap
Quick access inner and outer pockets Hidden inner laptop/tablet compartment
Adjustable & removable dividers to help create compartments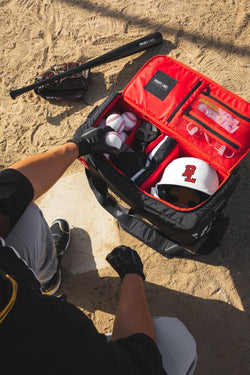 SHOP THE RANGE
Duffle Bags
Gym Bags
FAQs
What should I put in my baseball bag?
You can put anything in your baseball bag. It will comfortably fit all your baseball gear (other than the bat!)
What are Private Label baseball gear bags made from?
Our baseball bags are made with a ballistic nylon that is highly durable and perfect for outdoor/indoor use.
How do you pack a baseball bag?
Packing your baseball bag is easy with Private Label's purpose-designed duffles and backpacks. With removable dividers, it's easy to compartmentalize your gear so everything stays neatly packed.
Can the baseball bag be used for other sports?
Of course! Our sports duffles and backpacks are designed with the sportsman in mind. Our baseball bag is similarly suitable for teeball, softball, fastpitch softball and so much more!
Will a Rawlings field glove fit in this bag?
Yes, our bag will comfortably fit field gloves from all the top brands.