Volleyball Bags
The Official Bag for volleyball™
Private Label's duffles, backpacks and gym bags are the best bags for volleyball players. Marrying style and practicality, everyone on the team will quickly understand why it's a game changer.
Our duffle comes complete with three removable dividers for a fully customizable packing experience, this bag gives you the full functionality needed to pack your volleyball gear.
Our bags also feature handy internal and external pockets, so all your essentials—like earbuds to help you get in the zone before the first serve—are in easy reach. There's also a padded shoulder strap and discreet inner pockets so valuables like your phone and wallet are kept safe at all times.
DUFFLE KEY FEATURES:
Easily fits a standard size volleyball
Fits up to 4 pairs of volleyball shoes up to size 16
Adjustable shoulder strap
Quick access inner and outer pockets
Adjustable & removable dividers to help create compartments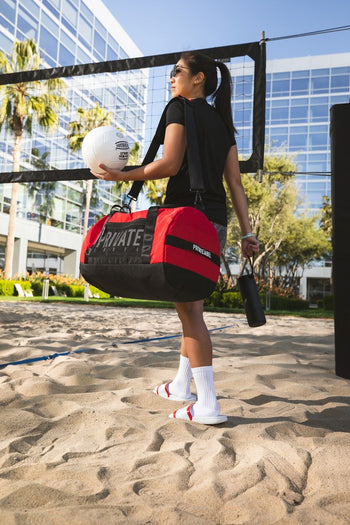 SHOP THE RANGE
Gym Bags
Duffle Bags
FAQs
What bag should I get for volleyball?
You need a bag that can carry all your volleyball equipment - from your gear and sneakers to your ball. Private Label's bags are designed with this in mind, making them the perfect option.
How big is the Private Label volleyball duffle bag?
The volleyball duffle is L:22" x W:9.5" x H13", with a capacity of 44 liters
What should I pack in my volleyball bag?
Naturally, you'll need all your volleyball equipment (jersey, shorts, sneakers, knee pads, ball). We also recommend taking a water bottle with you to stay hydrated.